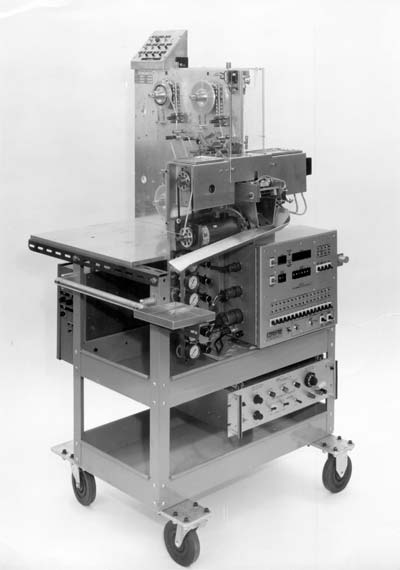 Above is a picture of Harry H. Hilton's famous "Automatic" winding machine. This machine made small capacitors.
Harry H. Hilton was an unusually inventive machine designer and creative entrepreneur. He lived his dream establishing the H.H. Hilton Co. in Glens Falls, New York, USA, in 1958, designing and manufacturing capacitor winding machines and producing his keystone product "Hilton style tabs." Harry was eager to patent one of his earliest designs, a fully automatic winder that was capable of winding metalized as well as film foil capacitors. His "Automatic" was copied in detail and Harry was not able to enforce any of the patents he put in place. Coincidentally, Hilton is in a similar situation today with our industry-leading OPTIMA series of element winding machines; this machine is being copied freely, albeit without great success.

Harry died while delivering a desperately needed Tab product to the Aerovox Corp in New Bedford, Massachusetts, USA. On his return flight to Glens Falls, Harry suffered a fatal crash in his personal aircraft during his approach to Warren County New York airport in poor conditions.

Harry's widow, Bonnie Hilton Aarons, and Paul Aarons, Hilton President, moved the business to Sarasota, Florida, USA in 1976 where it flourished with employees exceeding 100 at its peak. In the late 1980's Tony Quinn was hired and he demonstrated his unique talents as a Machine Design Engineer. The business was sold to Core Industries, who continued to operate the business through 1992. Suffering financial pressure, Core was forced to divest themselves of Hilton.
The divestiture provided an opportunity for Tony Quinn to acquire the assets of the machine division of Hilton. From the acquisition in 1992 through 2012, Tony managed to establish himself and Hilton with a reputation for quality unparalleled in the industry.

Tony's genius can be found in every corner of the Hilton business, from the innovative machine design to the customer service. Through out his tenure, Tony continued to mold Hilton into a unique machine builder that provides world-class products and a commitment to unbeatable service until his passing in 2012. Many have tried, but no one has succeeded in replicating a Hilton machine. Today, Hilton maintains a strong foothold in a machine segment abundant with opportunity.

Hilton, now a Behlen Mfg. Co. Group Company, has put together a four man management team to fill the large shoes of Tony Quinn. A four man team prepared to maintain and grow the core winding machine business, as well as, expand our offerings to fulfill targets set for years to come.